Regular price
$448.98 USD
Regular price
Sale price
$448.98 USD
Unit price
per
Sale
Sold out
Acrorip ® Version 11 is now available - it comes with a DTFRIP ® USB security dongle that works with many popular Epson based DTF Printers. This is the latest and best ACRORIP version on the market.

Available in 2 versions:
ACRORIP desktopDTF®

ACRORIP wideDTF®
Each version (desktopDTF and wideDTF) come with a separate dongle, so are separate items. Check compatibility listed below for each item/version.
AcroRIP Version 11 is tailored for DTF printers, enabling you to unlock its full potential in the dynamic world of DTF printing. Seamlessly integrate this powerful software into your workflow to achieve exceptional print quality, enhanced productivity, and efficient operations. Experience the ease of multi-image handling, one-pass printing, and customized channel settings, all designed to streamline your printing process and deliver outstanding results.
Works with Windows 7 / 8 / 10 / 11.
Features:
Multi-image Handling: Seamlessly handle multiple images in one print job, maximizing your productivity and streamlining your workflow. Effortlessly print multiple designs without the need for manual intervention, saving you valuable time and effort.
One Pass White and Color: Experience the efficiency and convenience of one-pass printing for both white and color layers. AcroRIP Version 11 eliminates the need for multiple passes, allowing you to achieve outstanding results in a fraction of the time.
Easy and Bug-Free Installation: Enjoy a hassle-free installation process with AcroRIP Version 11. Our user-friendly setup ensures a smooth installation experience, allowing you to get up and running quickly without any technical headaches or frustrations.
Custom Channel Settings: Take full control of your printing process with custom channel settings. Tailor the channel configurations according to your specific requirements, allowing you to adapt and optimize the printing process to achieve the desired results.
Latest/Updated Drivers: Stay ahead of the curve with the latest and updated drivers provided by AcroRIP Version 11. Benefit from enhanced compatibility, improved performance, and reliable printing results.
Improved Color Expressions: Witness the transformation of your prints as AcroRIP Version 11 enhances color expressions. Whites and colors become more vivid, allowing you to achieve vibrant and eye-catching results that captivate your audience.
Custom Channel Substitution: Overcome channel clogs with the innovative custom channel substitution feature. For example, if yellow is clogged, AcroRIP Version 11 allows you to utilize a white channel with yellow ink, ensuring a seamless printing process while avoiding any interruptions caused by clogged channels.
Proprietary RIP BOOST Setting: Boost the print speed of the popular Epson L1800 printer by up to 40% on demand with the proprietary RIP BOOST setting. Save valuable time and increase your productivity without compromising on print quality.
Paper Cut Function: Enjoy the convenience of the paper cut function, compatible with various printer models including 4800/4880/4900/P5000/7800/7880. Achieve precise and accurate cutting for your prints, enhancing the overall presentation and professionalism.
Roll Printing on Select Epson Models: Experience the versatility of roll printing with select Epson models such as L1800, P400/P600/P800, and more. Expand your printing capabilities and explore new opportunities for large-scale productions.
Epson Surecolor P700, P900 Compatibility: AcroRIP Version 11 includes compatibility with Epson Surecolor P700 and P900 printers, providing you with even more options for your desktop DTF® printing endeavors (BETA).
* You have the choice of printing at regular L1800 speeds (regular speed, photo quality prints) or at RIP BOOST speeds (40% faster speeds, normal quality prints). The quality difference is mostly noticeable on larger prints, but the speed enhancement is for all size prints.
ACRORIP V11 desktopDTF® is compatible with the following printer engines:
Epson L800/L805
Epson L1800
Epson Artisan 1430
Epson Photo XP-15000
Epson Ecotank ET-8500, ET-8550
Epson Stylus Photo 1390, 1400
Epson Stylus Photo R1800, R1900, R2000, R2400, R2880, R3000
Epson SureColor P400, P600
Epson SureColor P700

 

(BETA - customers need to have resettable cartridges, these drivers are in BETA development and subject to improvements as ACRORIP gathers more market feedback)
ACRORIP V11 wideDTF® is compatible with the following printer engines:
Epson Stylus Pro 3800, 3880, 3885
Epson Stylus Pro 4000, 4800, 4880, 4890, 4900
Epson Stylus Pro 7800, 7880, 7890, 7900
Epson SureColor P800, P5000, P6000
Epson SureColor P900

 

(BETA - customers need to have resettable cartridges, these drivers are in BETA development and subject to improvements as ACRORIP gathers more market feedback)
Share
View full details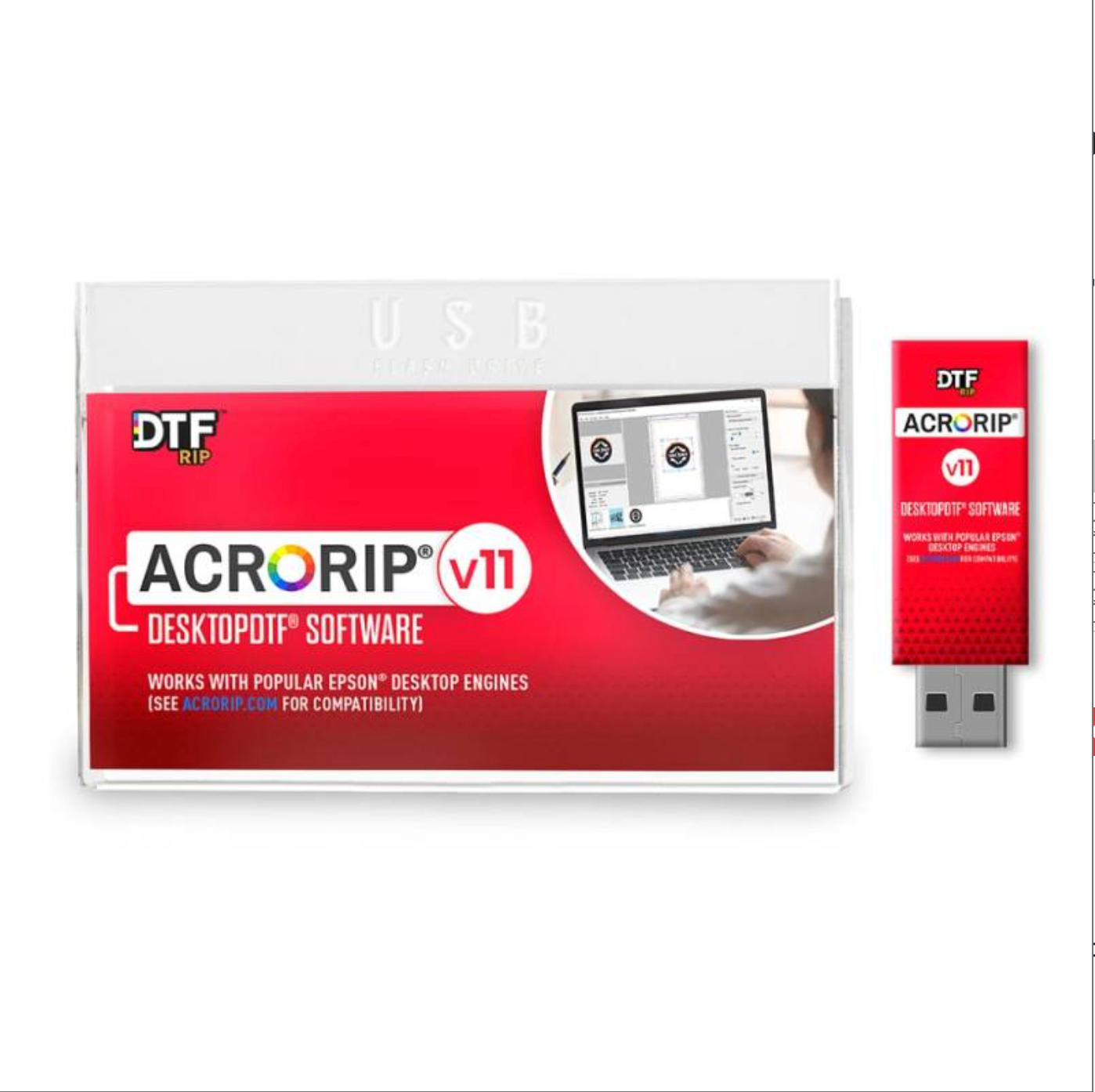 Set Your Ideal Size and Quantity | Get Started and Choose What Works Best for You